Entry Fees 2023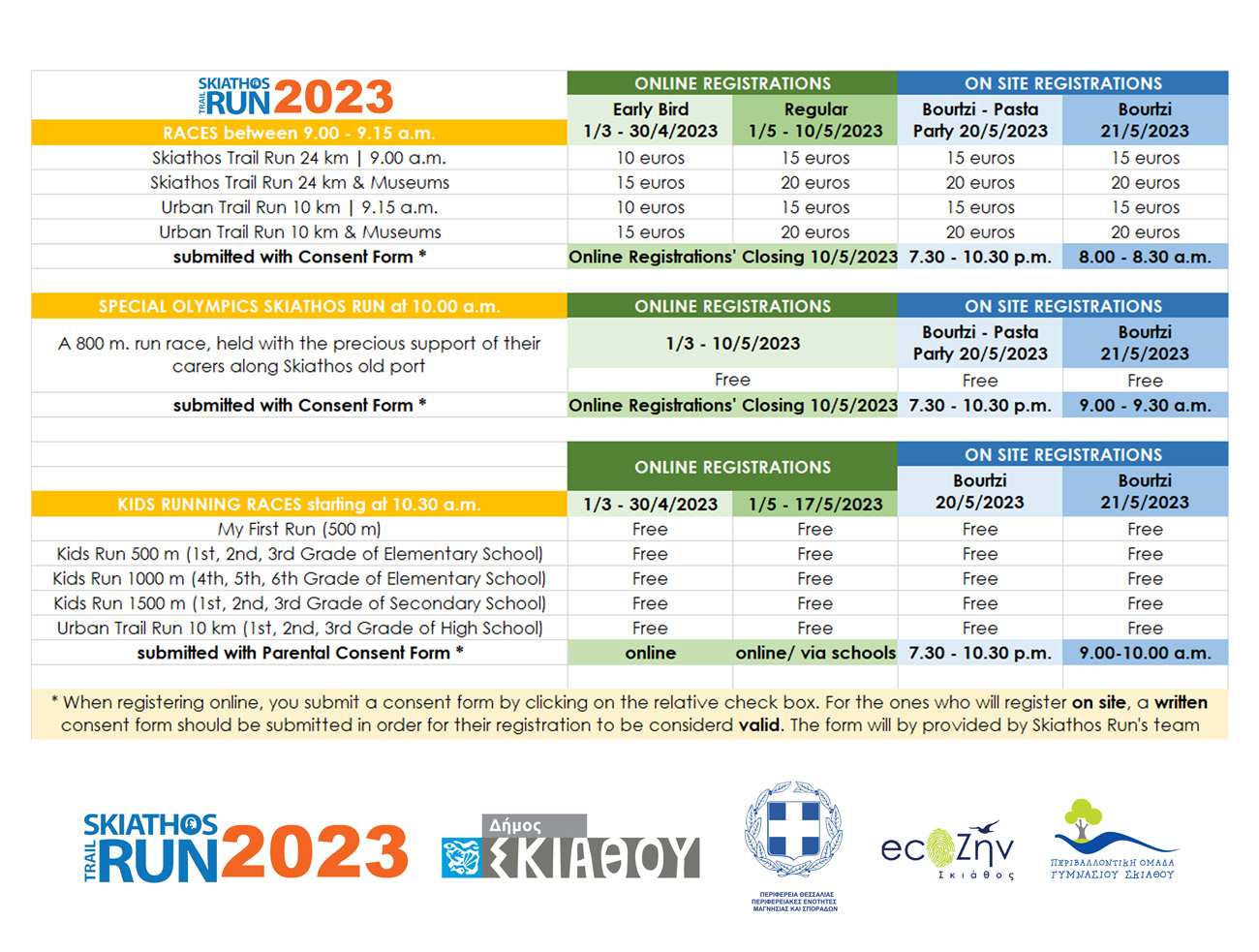 Online registrations deadline Friday, 13 May 2022
Your entry fee includes:
Participation in the running event, on 22 May 2022, according to the regulations | Participation in an organized guided walking tour in Skiathos town on 21/5 (optional) | Participation at the pasta party on 21/5 (optional) | Commemorative T-shirt | Race number | Commemorative participation medal | 1st, 2nd, 3rd place trophies (Men, Boys| Women, Girls) at the Awards ceremony | Water, light snacks offered by our sponsors at supply stations | Medical aid during and after the race | Free entrance at four Skiathos Museums (provided the respective entry fee is paid) | 30% -50% discount for ferry tickets (upon request, emailed at ecozinskiathos@gmail.com latest until 13/5/2022) | Discounts offered by our sponsors, that will be presented on the event's website soon
Group registrations: it concerns at least 10 runners, either in 10 km or 24 km. In such a case, a 10% discount is offered (all registrations free for 2022). If you are interested in a group registration, you should send your request at ecozinskiathos@gmail.com, latest until 13/5/2022. All requests are satisfied upon availability.
Local participants: the entry fee for runners born in Skiathos will be at 10 euros, either for an early or a last minute registration (10 km or 24 km). If you would like to take advantage of free entrance at four of Skiathos Museums, the entry fee will adjust to 15 euros (all registrations free for 2022).

Terms of Entry
Please proceed with the settlement of the respective entry fee before arriving at Skiathos island, following the steps 12 – 15, as described in the Terms and Conditions.
We will be happy to refund your entry fee as long as you cancel prior to May 13th, 2022.  We apologize but unfortunately, after 13/5, we won't be able to offer any refund due to operational handling reasons. In case of non-show or last minute cancellation, athletes will not be entitled to a refund and they will be charged with the 100% of the entry fee. For more, visit our Cancellation Policy (all registrations free for 2022).
Furthermore, in order for your participation to be valid, you must send us the following:

Consent Form
Parental Consent Form (for minors, as described in the races categories or for minors who would like to join our volunteers team)
Following the guidelines (mask/testing) according to Covid-19 protocols
According to the current Health Protocol, for anyone who would like to register and participate in the 2022 Skiathos Trail Run event, a PCR test or an Antigen test (Rapid) is needed 24-48 hours before the race. In case participants travel by bus, ferry boat, airplane, it is recommended to have the test in advance. Proof of tests will be delivered to the Skiathos Trail Run team when receiving the race numbers. Non show of such a proof automatically cancels the athlete's participation with no refund. All the members consisting the Skiathos Trail Run will have a self test on the event's day. It's only fully vaccinated runners until 15 days before (8/5) and runners with proof of recovery from COVID-19 (2-6 months) who can be excluded from the above process.
For any further queries, please do not hesitate to contact us
We are really looking forward to bringing back the running lifestyle in Skiathos, always in accordance to all guidelines of the Health and Public Authorities, hoping that a successful Skiathos Trail Run event will bring back a positive message in our sport lives. We would like to thank once more all runners for their support and patience in this process.